Olivetti P700
---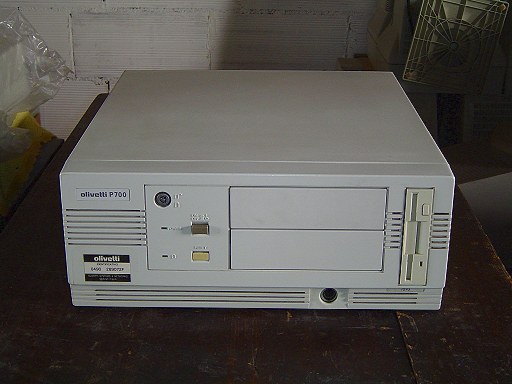 | | |
| --- | --- |
| Machine type | P700-100 (Memorex Telex 7270) (*) |
| Serial | 1122020135 |
| Manufacturer | Memorex Telex |
| Manufactured in | Taiwan R.O.C. |
| Date | July 1991 (**) |
Physical description
| | |
| --- | --- |
| Type | Desktop (sticker inside top cvr MAY 25 1991) |
| Dimensions (HxWxD) | 156 x 377 x 420 mm |
| Drive bays | 2 x 5.25" half-height (can be used as 1 x 5.25" full-height), 1 x 3.5" slim, 1 x 3,5" half-height (internal) |
| Power supply | 150 W, 115/230 V, 4/2 A, max 330 W (incl. outlet 100 W) ( 9122 + 9128 stickers) |
Main board
| | |
| --- | --- |
| BIOS | Phoenix 80386 Advanced ROM BIOS ver 1.02.00, Nov. 11, 1988 (55 Kb, planar id FEFF, model F80D) |
| Processor | Intel 80386DX-25 MHz (32-bit) PGA |
| Coprocessor | Intel 80387-25 MHz PGA |
| External cache | 32 Kb (controller Intel 82385) |
| Memory | 8 sockets for 70ns 30-pin SIP SIMMs (to be installed in groups of four) |
| Min on system board | 2 Mb (standard) |
| Max on system board | 8 Mb (8 x 1 Mb) |
| Bus | Micro Channel (MCA) 32-bit |
| Expansion slots | 4 x 16-bit (1 w. video ext., all available), 3 x 32-bit (2 available) |
| Interface | FDD (2 units) |
| Video | Integrated Paradise PVGA display adapter |
| Ports | PS/2 keyboard, PS/2 mouse, serial (UART 16550A), parallel, VGA |
Cards
| | |
| --- | --- |
| Installed RAM | 8 x 1 Mb 70ns SIPs |
| HDD Controller | WD ESDI adpt. WDC-WD1007V (32-bit MCA card, 9114 + 9128 stickers) |
Storage
| | |
| --- | --- |
| Diskette drive | 1.44 Mb, 3.5" slim (Teac FD235HF, 9122) |
| Hard disk | Microscience 100 Mb ESDI, 3.5" half-height (91-39) (***) |
Trivia
| | |
| --- | --- |
| Acquisition | Mid-99, free (was in a deposit of dismissed appliances together w. another P700 which I demolished to get spare parts) |
| Condition | Very good, working |
| Installed O.S. | Olivetti MS-DOS 5.00, MS Windows 3.0 w. Memorex Telex logo (Italian) |
| Current status | All hw working |
| Spare parts | Almost everything, incl. drives, planar, etc. |
Notes
Another identical unit is shown here.
(*) This machine is a remarketed Memorex Telex 7270: the "7270" label is still attached on the front panel, while the original large stain sticker from Memorex Telex is attached on the rear (in fact, serial number belongs to Memorex Telex).
(**) I suspect that the countless 9122 and 9128 stickers attached almost everywhere inside the machine belong to Memorex-Telex and Olivetti resp.
(***) Available hard disk configurations were 45, 105 or 338 Mb ESDI, and 136, 182, 330 or 420 Mb SCSI.
---
Peripherals: KEYBOARDS, MONITORS, MICES
---