Olivetti M480-50
---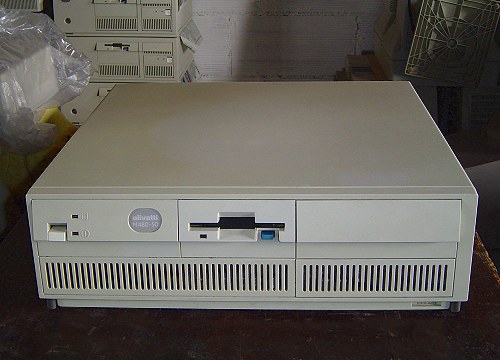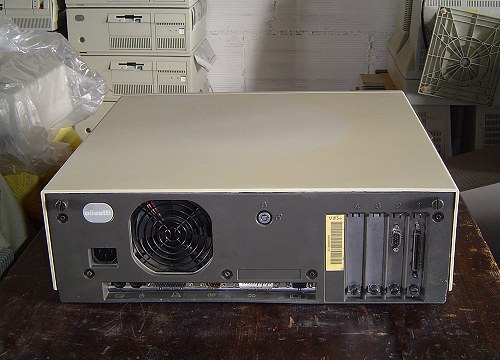 | | |
| --- | --- |
| Type | 9590-ALA |
| Serial | 55-0M7Z3 |
| Manufacturer | IBM Corp., United Kingdom Ltd. (*) |
| FCC ID | AN09590C50 |
| Date | July 1993 |
Physical description
| | |
| --- | --- |
| Type | Desktop |
| Dimensions (HxWxD) | 140 x 440 x 430 mm |
| Weight | 11.4 Kg |
| Drive bays | 3 x 3.5" half-height, 1 x 5.25" half-height (all accessible) |
| Power supply | 194 W, 110-220VAC manual voltage switch (9328) |
Main board
| | |
| --- | --- |
| Chipset/Manufacturer | IBM (planar id FF6F) |
| Bus | Micro Channel (MCA) 32-bit |
| Expansion slots | 4 x 32-bit (1 w. video ext., 2 available), one 64-bit for processor complex (proprietary), two 64-bit for memory cards (proprietary) |
| Interface | FDD (2 units) |
| Video | Integrated 16-bit XGA display adapter (1024x768, 16 colours; 640x480, 256 colours) |
| Ports | PS/2 keyboard, PS/2 mouse, 2 buffered serial (UART 16550A), parallel, XGA |
Cards
Processor

| | |
| --- | --- |
| Type | Type-2 complex (**) |
| BIOS | IBM, Nov. 2, 1992 (sticker on BIOS chip 15/06/93) |
| Processor | Intel 80486DX2-50 MHz (32-bit) PGA |
| Coprocessor | Integraded on 486DX |
| Ext. Cache | N/a |
| Max Memory | 64 Mb (8 x 8 Mb) (**) |

Memory
2 memory riser cards (dated 9322) - each features 4 sockets for 70ns 72-pin SIMMs, parity checked (PS/2 proprietary) (***)
Installed RAM
32 Mb 70ns (4 x 4 Mb SIMMs type 31F2314, 2 x 8 Mb type 78G9177, und.) on riser cards
SCSI Controller
IBM 32-bit PS/2 bus master SCSI adapter/A with 512 Kb cache (id 8EFF) (sticker 17/06/93, cables 12/7/93)
Video
IBM 32-bit XGA-2 adapter (id 8FDA) (sticker 090393)
Storage
| | |
| --- | --- |
| Diskette drive | 2.88 Mb, 3.5" slim-height (Mitsubishi MF356C, MAY 1993) |
| Hard disk | IBM WDS-3200 (200 Mb), SCSI, 3.5" slim-height |
| 2nd Hard disk | IBM DSAS-3360 (364 Mb), SCSI, 3.5" slim-height ADDITION |
Trivia
| | |
| --- | --- |
| Acquisition | Mid-99, collected in a dump together w. a CDU 1548 monitor, keyboard and mouse |
| Condition | Very good, working |
| Installed sw. | IBM PC-DOS 5.00, MS Windows for Workgroup 3.11 (Italian) |
| Modifications | Removed token-ring adapter, added second hard drive, added 2 x 8 Mb memory SIMMs (it had 16 Mb only) |
| Current status | All hw working |
| Current O.S. | DR DOS 6.0, MS Windows for Workgroup 3.11 (Italian) |
| Spare parts | Almost everything, incl. drives, planar, etc. |
Notes
(*) This machine is in fact an IBM Enhanced Personal System/2 Model 90 XP 486.
(**) Existing processor complex can be changed with a newer one (Type-3 or 4, CPUs up to Pentium-90, supporting up to 256 Mb of RAM).
(***) Slower 80ns SIMMs can be used instead. Using a Type-2 processor complex SIMMs need not to be installed in pairs.
---
Peripherals: KEYBOARDS, MONITORS, MICES, PRINTERS
---