Olivetti M386/25
---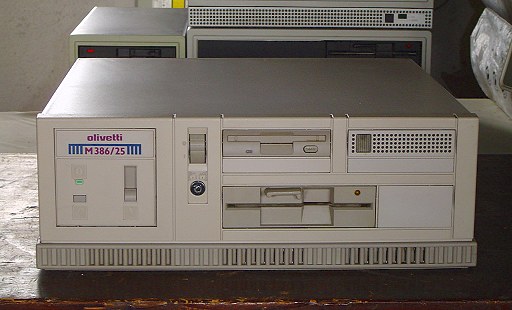 | | |
| --- | --- |
| Machine type | XP 2670 |
| Serial | 0019969 |
| Manufacturer | Olivetti, made in Italy |
| Preloaded software | MS-DOS 4.01 and Windows 3.0 or OS/2 1.2 |
| Date | February 1991 |
Physical description
| | |
| --- | --- |
| Type | Desktop (rev. of front panel 2/91) |
| Dimensions (HxWxD) | 155 x 420 x 405 mm |
| Drive bays | 4 x 3.5" (two may be converted into one 5.25" half-height), all accessible |
| Power supply | 200-220VAC, 1A (dated 02/91) |
Main board
| | |
| --- | --- |
| Manufacturer | Olivetti |
| BIOS | Olivetti, vers. 1.08, Nov. 19, 1990 |
| Chipset | Olivetti |
| Processor | Intel 80386DX-25 MHz (32-bit) PGA |
| Coprocessor | Intel 80387DX-25 MHz, PGA ADDITION, socket for optional Weitek coprocessor (*) |
| External cache | 32 Kb 25ns |
| Cache Controller | Intel 82385-25 |
| Memory | 2 Mb, 80ns on board, plus 8 sockets for 80ns, 30-pin SIMMs (to be installed in groups of four) |
| Max memory | 18 Mb (2 Mb on board + 16 x 1 Mb SIMMs, incl. memory card) (**) |
| Bus | ISA 16-bit |
| Expansion slots | 5 x 16-bit ISA (all available), slot for additional memory card (32-bit proprietary) |
| Interface | FDD (2 units), IDE HDD (2 units) |
| Video | Integrated Chips & Technologies VGA-plus adapter |
| Ports | PS/2 keyboard, PS/2 mouse, serial (UART 16550A), parallel, VGA |
Cards
| | |
| --- | --- |
| Installed RAM | 8 x 1 Mb SIMMs, four 80ns (9140), four 70ns (9302) (total mem. 10 Mb) |
| Controller | Farp Host6P.02 IDE adapter (mid-92) ADDITION (***) |
Storage
| | |
| --- | --- |
| Diskette drive | 1.44 Mb, 3.5" slim-size (Sony MFD-17W, 9009) |
| 2nd Diskette drive | 1.2 Mb, 5.25" half-size (Panasonic JU-475) ADDITION |
| Hard disk | Conner CP30126 (120 Mb), IDE/ATA, 3.5" half-height (9151) REPLACEMENT (****) |
Trivia
| | |
| --- | --- |
| Acquisition | Mar. 2001, paid a couple $ |
| Condition | Very good, working |
| Installed sw | None |
| Repairs/modifications | Added second diskette drive (replacing non-functioning tape streamer) and 4 x 1 Mb memory SIMMs (it had 6 Mb only) |
| Current status | All hw working |
| Current O.S. | Olivetti MS-DOS 5.00, MS Windows 3.0 (Italian) |
| Spare parts | Parts and accessories from other Olivetti PCs (P750, P800) |
Notes
(*) Two sockets for optional coprocessors are featured, allowing either an 80387 or a Weitek 3167 to be installed.
(**) An additional memory card, supporting 8 more 30-pin SIMMs, can be added. Despite many efforts, I was never able to use more than 15 Mb on this machine. If 16 Mb (16 x 1 Mb SIMMs) are installed, the last four SIMMs will not be"viewed" (BIOS reports 14 Mb instead of 18). Instead, a 12 x 1 Mb + 4 x 256 Kb combination (tot. 15 Mb) can be correctly configured.
(***) This additional controller is required to use the installed 120 Mb HDD unit as integrated IDE interface only supports twenty specific HD types, and no "user" type can be configured.
(****) Original HDD was either a 40 Mb, a 200 Mb or, most likely, a 100 Mb unit (the latter was the most common).
---
Peripherals: KEYBOARDS, MONITORS, MICES
---