Olivetti M24
---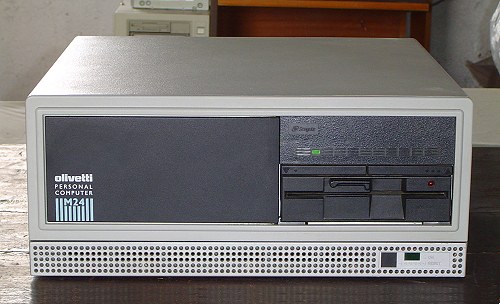 | | |
| --- | --- |
| Machine type | XP 1050 |
| Serial | 0015663 |
| Manufacturer | Olivetti, made in Italy |
| Date | March(?) 1985 |
Physical description
| | |
| --- | --- |
| Type | Desktop |
| Dimensions (HxWxD) | 160 x 380 x 415 mm |
| Drive bays | 2 x 5.25" half-height, both accessible (a "sidecar" disk tray can be added internally, supporting one 5.25" half-height HDD) |
| Power supply | 200-220VAC, 1A (6 84) |
Main board
| | |
| --- | --- |
| Manufacturer | Olivetti (sticker 06/85) |
| BIOS | Olivetti Resident Diagnostics Rev. 1.36, June 19, 1985 (127 Kb) |
| Processor | SAB 8086 2-P (8 Mhz, 16-bit), DIP (8448), 1 wait state |
| Coprocessor | Socket for optional 8087 coprocessor |
| Memory | 256 Kb 150ns DRAM DIPs (four banks, each 64 K x 9) |
| Max on system board | 256 Kb (*) |
| Bus | 16-bit, proprietary (ISA 8-bit cards compatible) |
| Expansion slots | 3 x 16-bit (proprietary), 4 x 8-bit ISA, all available (**) |
| Interface | FDD (supports two 360/720 Kb units) |
| Video | Integrated video adapter (640 x 400 mono) (sticker 9/84) (***) |
| Ports | Serial for keyboard/mouse (propr. type), serial (UART 8250), parallel, video (proprietary) |
Cards
| | |
| --- | --- |
| Controller | DTC (model unkn., ISA 8-bit), supports two ST-506/412 HDD (2484) ADDITION |
| Memory | Model unkn. (M24 16-bit), w/ 384 Kb of RAM (one bank 256Kb x 9 , two banks 64 Kb x 9) (chips 8635) ADDITION |
Storage
| | |
| --- | --- |
| Diskette drive | 360 Kb, 5.25" half-height (Panasonic JU-455) |
| Hard disk drive | Seagate ST-225 (20 Mb), 5.25" half-height (8750) ADDITION |
Trivia
| | |
| --- | --- |
| Acquisition | June 2002, paid a dozen $ together w. keyboard, DSM 2412A monitor and other appliances |
| Condition | Very good, working |
| Installed O.S. | MS-DOS 3.10 (Italian) |
| Current status | All hw working |
| Spare parts | Enough to build another M24 |
Notes
(*) All chips are soldered (the system would accept 640 Kb on motherboard).
(**) Riser card had been replaced (newer one is dated 12/86). Most likely this system originally had a 2 x 16-bit + 1 x 8-bit ISA riser card (like this other machine).
(***) Connects motherboard to riser ("bus") card. Can be replaced w. EGC adapter. Video connector also supplies DC Power to monitor.
---
Peripherals: KEYBOARDS, MONITORS
---